About The Walk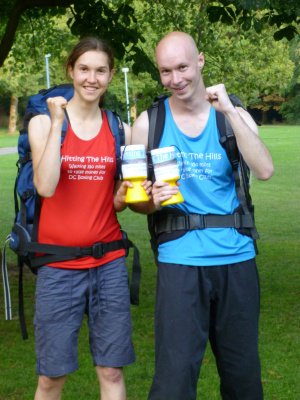 Hitting The Hills is a 350-mile trip around Scotland aiming to raise money for the DC Boxing Club in Cambridge.
The journey will take two boxers from just outside Glasgow along Loch Lomond, past Glencoe, along Loch Ness into Inverness. From there the route travels down through the Cairngorms and eventually ends up in Aberdeen.
We set off on 25th August and plan to walk for 22 days, potentially with a few extra rest days along the way. At the moment there is no rigid schedule, although we have the actual route planned.
About DC Boxing
DC Boxing Club is a small boxing club based in Cambridge. The focus of the club is the junior boxers, although the club trains three age ranges: 5-10 Children, 11-15 Juniors and 16+ Seniors.
DC Boxing recently achieved success through young boxer Demie-Jade, who won the National Schools Female Championship at 44kg.
About Heley
I started boxing with the Cambridge University Amateur Boxing Club in October 2009 to see what boxing was like, having kickboxed for 5 years. I have had 3 fights representing the University so far and won my most recent bout earlier this season. To continue boxing during the CUABC off-season, I have been training with DC Boxing Club since March 2011.
Having recently graduated from Cambridge University with a degree in Biochemistry and with a PhD place starting in October, I wanted to do something completely different this summer before returning to academia. Other than hitting things, I also enjoy baking awesome cakes, and have a slight obsession with Japan and all things related.
About Phill
I started boxing in July 2010 with DC Boxing Club, and I have gone on to have two bouts in my first season. I weigh somewhere around middleweight and still claim to be in my mid-twenties.
Outside of boxing I run a small IT business. I have recently completed my PhD in the acoustic analysis and tuning of the modern drum kit. I'm also working on a few other crazy projects including automatically generating music videos through audio analysis.